My review of Blood on the Tyne, Body Parts, by Colin Garrow
5-stars
In recent years, I've read more Colin Garrow books than any others. This author is a class act who always delivers believable characters, interesting plotlines, nail-biting suspense, brilliant dialogue, with generous sprinklings of wicked humour. I was surprised how easy it was to read the Geordie dialogue. It added greatly to the flavour of the book. I could visualise each character and setting, a testament to Garrow's skill. While reading Body Parts, I was not only magically transported back to the 1950s but also enjoyed a free trip to Newcastle.
Body Parts introduced me to irrepressible, feisty, fearless nightclub singer Rosie Robson. Despite being in danger herself from the unknown killer, she becomes an amateur sleuth to investigate the murders of several young female singers. What a gal! Rosie is my favourite Garrow main character thus far. He was brave to write Body Parts in the first person, as Rosie. The gamble paid off extremely well. I think this series has legs because interesting dynamics have been set up in Body Parts between Rosie and several male characters, particularly Ricky and Inspector Walton. Her relationship with her difficult sister is intriguing. I could wax lyrical about so many other qualities in this book, but I suggest you find out for yourself. I can't wait to read book two in the series. Mr Garrow is an admirably prolific, talented, dedicated author, so I won't have too long to wait.
My review of Murder on Mystery Island by Colin Garrow
5-stars.
I've read and thoroughly enjoyed the other four Watson Letters books and several other books the author has published, so I was sure I'd also have fun reading book five, Murder on Mystery Island. In fact, I loved it even more than the others. It's probably because I was a huge Agatha Christie fan in my youth and have read most of her books. She figures large in Colin Garrow'shighly amusing and well-crafted spoof Sherlock Holmes adventure. In true AgathaChristie tradition, murders follow thick and fast, yet I was often laughing out loud at the author's irreverent humour. It was fun getting reacquainted with my old friends, Dr. Watson and his no-nonsense wife, Mary. Bring on book six, Mr. Garrow. I'm looking forward to devouring it.
My review of The Rage by Richard T Burke
5-star.
The Rage is the second book I've read by Richard T. Burke. I enjoyed it just as much as Decimation, which was also a five-star read. The Rage often left me breathless with excitement as I never knew who'd succumb next to the mysterious, murderous fury within the village of Netherwell. At the start of the book, nobody knew what was causing people and animals to suddenly turn into blood-thirsty killers; I won't be the one to spoil the surprise for readers by writing here what was the cause of the bloodbath.
Although there were several characters I was rooting for, there were two main characters in this well-written, ingenious thriller. Alice Dean was a Netherwell resident in search of her husband who'd gone missing while walking their dog. Dave French was a paramedic who'd turned up at Alice's house after she'd reported the family dog had just brought home a severed human finger. There was also an extremely sinister, dangerous baddie to add to Dave, Alice, and the rest of the residents of Netherwell's life-threatening problems. Moments of horror cropped up throughout the book to add spice to the well-structured, imaginative yet plausible story. I'm looking forward to reading more of Richard's accomplished work.
My review of Fractured by Billy McLaughlin
5-star.
I'd been meaning to read a Billy McLaughlin book for a while and at last, I managed to read one. Fractured didn't disappoint me in any way. I was soon embroiled in the fast-paced, well-constructed dramatic action between two warring, deeply disturbed sisters, drawn in by the credible characters, engaging plotline and digestible style. One of the sisters is one of the most seriously twisted monsters I've ever encountered in a book; I won't tell you which sister I'm talking about as it might spoil your enjoyment. Before I knew it, I'd finished Fractured, hungry to read another Billy McLaughlin thriller. Thoroughly recommended.
My review of The Dragonfly Grove by Helen Pryke
5-star.
When I finished reading The Healer's Secret, I enjoyed it so much I vowed to read the follow-up, The Dragonfly Grove. Book two was just as magical as the first book. I usually read gritty crime thrillers, but The Dragonfly Grove has a higher death count and emotional trauma than most of them.
I felt completely involved in the moving, breathtakingly exciting story of healer Agnes, set in the middle ages, and loved the way the author cleverly linked the dramatic, often tragic events to the modern-day story of healer Jennifer. The author's style was as easy to digest in this second book as in book one, beautifully constructed with no jarring type errors. She made it effortless for me to feel like I was standing on the sidelines closely watching this wonderful, gripping story play out, mostly cheering Agnes on in her battle against seemingly insurmountable challenges.
I could write more about why British-born Agnes found herself living in Italy, just as I could say more about why British-born Jennifer found herself living in Italy centuries later, but that's for you to enjoy finding out. It's no coincidence Helen Pryke left England to live in Italy, which is maybe why the story rings true. I'm so glad I read books one and two of The Innocenti Saga and strongly recommend you do the same, whichever genre you usually read. The Dragonfly Grove will make you believe in magic and we all need some of that in our lives.
My review of Game Point by Malcolm Hollingdrake
5-star.
If you haven't guessed already, I'm a huge fan of Malcolm Hollingdrake's books. Game Point is the fourth in the DCI Bennett series and the fifth book I've read by this author. I'm already looking forward to reading Dying Art, The Third Breath, and whatever books he writes in the future. I foolishly read the DCI Bennett crime thriller series slightly out of order, which I regret as I wish I'd read this book before number six, but I now know why DCI Bennett felt sad about a past traumatic event. The author's style in Game Point was as satisfying to me as in all his other books. He writes clearly, intelligently and creates particularly nasty baddies, credible characters, tension and pathos with seemingly consummate ease. Without giving away the plot, I was particularly moved by one event in Game Point. Not every book of the multitude I've read in my life has had the ability to move me, but Game Point did. I'm adding yet another five-star review to this wonderful author's twinkling constellation of 5-star reviews.
My review of Murder At The Book Club by Betsy Reavley
4-star.
I've read and reviewed most of Betsy Reavley's books as she's always been one of my favourite authors. This is the first cosy mystery book I've read by anyone, let alone by Betsy, and I've discovered I prefer her harder-edged, more atmospheric thrillers, so mark it four out of five stars, not the usual five. I didn't dislike Murder At The Book Club, but I will soon forget it as it had nothing powerful or unusual to make it stick in my mind, especially as I've read so many gutsy thrillers in my long life. Although I've always enjoyed the author's flowing style, I found there were too many female characters in the book for me to be able to see them clearly or become particularly interested in any of them. This hasn't put me off reading other books by Betsy Reavley in the future, so long as they're not too cosy.
My review of Holy Island by L.J. Ross
4-star.
I had an inkling I would enjoy Holy Island as I'd witnessed the buzz on social media around it. I knew I would read it at some point, but it took a while to get around to it as my TBR is frighteningly long. It was the first book I've read by L.J. Ross. Once I'd read the first pages, I knew I was right to do so. I could easily visualise the characters and atmospheric setting, and there were no jarring stylistic annoyances. Having lived on an island for eighteen years, I could relate to Holy Island. The text could be easily digested which led me to speed through the book, eager to discover who was behind the murders, and what terrible events had happened to troubled DCI Ryan to make it necessary for him to take a sabbatical to recover. He and his team had been tasked with investigating the brutal, ritualistic murder of a young woman on the island of Lindisfarne. More gruesome murders ensued, along with some romantic involvement for DCI Ryan. Although there was a tense, dark final climax to the book which put me in mind of a couple of books I'd read by Dennis Wheatley, I had a few misgivings about the feasibility of the end resolution of the book. I'd still be happy to read more by this author.
My review of the audiobook of My Sister and Other Liars by Ruth Dugdall
5-star.
I had no complaints while lying in the sunshine and listening to the audiobook edition of My Sister and other Liars, written by Ruth Dugdall, whose books I was unfamiliar with. Despite dealing with distressing, difficult subjects such as eating disorders, sexual abuse of several types to name but a few, she does so skilfully in an honest, no-nonsense, credible way, and without gratuitous sensationalism, which I found refreshing.
This psychological thriller has a large, shocking twist in its tail that I never saw coming. The plot centres around a troubled teenager called Sam, who's been hospitalised for starving herself while searching for the identity of the vicious attacker of her elder sister, Jena, several years after Jena had been raped. The stories of the other troubled girls with eating disorders who'd been hospitalised with Sam were also interesting.
Henrietta Meire did a splendid job of narrating the well-produced audiobook and I'll make a point of looking out for more of her work as well as other books by Ruth Dugdall.
My review of Hell's Gate by Malcolm Hollingdrake
5-star.
If you've already read my glowing reviews of the three other Malcolm Hollingdrake books I've read recently, you'll probably guess I've also enjoyed Hell's Gate. You'd be spot on. DCI Cyril Bennett and his sidekick DS David Owen had been tasked with unpicking a tangled web of serious crime including people trafficking, prostitution, and murder. The author's vivid descriptions of the vicious, deliberate dog attacks on terrified victims have particularly stuck in my mind. The endearing, often amusing relationship between Bennett and Owen prevented the Harrogate-based book from becoming too dark. I'm comforted to know I still have at least two more of this talented author's atmospheric, engaging, stylish books to read on my Kindle. Bravo to Mr. Hollingdrake for yet again keeping me on the edge of my seat.
My review of the audiobook of Enmity by Pete Brassett
4-star.
The audiobook of Enmity was my first encounter with Pete Brassett's work. I enjoyed the story, but I've deducted one star because I wasn't convinced that one man could date so many women who had the same names as women in Robbie Burn's life. Apart from this shaky aspect of the plot, I thoroughly enjoyed trying, and failing, to guess the identity of the serial killer, and appreciated the touches of humour throughout between DI Munro and his officers. Enmity wasn't as gory as many thrillers I've come across, but that's not a criticism, just an observation. James Gillies did a great job of narrating the audiobook, and the Scottish accents of the characters added flavour. I look forward to reading or listening to more of Pete Brassett's books.
My review of the audiobook of Chosen Child by Linda Huber
5-star.
This is the fourth work I've enjoyed by Linda Huber. I was already a huge fan of her books when I recently started listening to the audiobook version of Chosen Child. I also have the Kindle version, but as the weather has been beautiful recently, I opted to swelter in my garden and allow Meriel Scholfield, the wonderful narrator of the piece, to do all the hard work rather than read the book myself. Like Linda Huber, I also work hard as an author, so my eyes deserve a rest occasionally.
Chosen Child is set in Cornwall, a part of the world I love and have often visited, so I had a clear picture of where the action was taking place. The author's usual clarity of style meant the enthralling plot was easy for me to follow. The book skilfully dealt mainly with the subjects of adoption, adultery, and murder with sensitivity, without gratuitous sensationalism. The story is based around what happens between Amanda and her husband Gareth, Ella and her flawed husband Rick, and the enthralling, often poignant fallout from Ella's desire to adopt a young, spirited girl called Soraya. For me to say more might spoil new readers' enjoyment, but I urge anyone to read or listen to Chosen Child. You won't regret it.
My review of The Mermaids Singing audiobook by Val McDermid
5-star.
I always love it when a book exceeds my expectations. The Mermaids Singing audiobook did. I'd had several reservations about listening to The Mermaids Singing audiobook. My reticence was not because I have any doubts about Val McDermid's expertise as I've read and enjoyed several of her books, but the subject matter deals partly with extreme torture, a horror I know I'm squeamish being confronted with, having been traumatised by one scene in Braveheart. The Mermaids Singing was such an enthralling, fast-moving story that I survived, relatively unscathed, although the grisly descriptions of the fates of the serial killer's victims took me to the edge several times. I was also worried the audiobook might be a struggle to listen to as it's 13 hours long. I was wrong. I couldn't believe how swiftly the time had flown by and have nothing but praise for the voicing skills of the narrator, Saul Reichlin. I mainly listen to audiobooks while sunbathing in my Oldham garden, so I now have a deep tan thanks to the recent unusually sunny weather and the swift passage of time, thanks to Val McDermid's well-honed skill at telling dark tales. I felt breathless at times as there are several twists, turns, and a praiseworthy surprise climax. I hope to read or listen to the rest of the books in the Tony Hill and Carol Jordan series, partly because I'm nosy and want to discover whether Carol Jordan can help criminal psychologist with his 'little problem'. I'd love to tell you more about the exciting, unusual storyline, but I don't believe in dishing out spoilers. All I can do is recommend you either read or listen to The Mermaids Singing.
My review of No Remorse by Robert Crouch
5-star.
I've already read and enjoyed Fisher's Fables and No Bodies by Robert Crouch, so I was confident I'd also like No Remorse. I have yet to read the second book in the series, No Accident and hope to achieve that goal at some point. I've always appreciated this author's easy, often witty writing style and have become increasingly familiar with the characters in the Kent Fisher series, which increases my enjoyment. Kent Fisher continues to juggle being an amateur sleuth while somehow just about managing to hold down a job as an environmental health officer, plus running an animal sanctuary. In this latest book, Kent's love interest is split between Gemma, who is pledged to Richard, and a single mother called Louise. In No Remorse, there are cryptic messages for Kent to fathom, an animal sanctuary to upkeep, dangers for him to avoid from a mystery adversary, shenanigans at a care home, and secrets for him to unearth. With all that and more to contend with, Kent Fisher could really do with more hours in the day. Another thoroughly enjoyable read from Robert Crouch.
My review of Dark Winter by David Mark
5-star.
Having listened to David Mark talk so eloquently about his latest book in the DS Aector McAvoy series at a recent author event held near me, I was eager to read it. Unusually for me, I decided to be sensible and delay reading the signed hardback of Scorched Earth, book seven, and read the Kindle edition of the first book in the series, Dark Winter, set in Hull. I particularly enjoyed the unstereotypical characters like McAvoy's female boss, Trish Pharaoh. I also appreciated the author's clear, smart writing style, and the subtle, clever plot which involved the cruel murders of sole survivors of tragic events. I didn't work out ahead of time who the killer was, which is always a bonus. Gentle giant Aector McAvoy from Scotland was an interesting, layered, sympathetic main character, so I'm keen to discover more about his past and what makes him tick in the following books. David Mark is now on my list of favourite authors, so I'm sure I'll read the rest of the books in the DS McAvoy crime thriller series.
My review of Crossed Out by Malcolm Hollingdrake
5-star.
I'm already a convert when it comes to Malcolm Hollingdrake's work. Crossed out is the third book I've read by him. It's the sixth in the DCI Bennett series and I'm gradually working my way through the collection in no particular order. It hasn't spoilt my enjoyment as they can be read as stand-alone books. As far as mysterious crime thrillers go, this book has it all; a dead body turning up in a sinkhole, enigmatic numbered crosses tied to plastic bags containing dyed red hair, acid attacks, the list goes on and on. The author's style in Crossed Out has all the clarity, intelligence, pace and tension that I've enjoyed in his other crime thrillers. Malcolm Hollingdrake has every right to feel extremely proud of his DCI Bennett series. I'm adding my five-star review to his scintillating constellation of 5-star reviews.
My review of Dark Angel by Helen Durrant
5-star.
Dark Angel is an engrossing crime thriller set in Manchester. It's an area I live in, so I'm familiar with the book's environment and have always easily related to Helen Durrant's books. She maintains a high standard and uncomplicated, fluid writing style throughout every book I've read. With deft clarity, she led me through the twists and turns in Dark Angel's plot without me having to scratch my head in consternation. The challenging relationship between DCI Greco and DS Grace Harper, who is carrying his child, was particularly authentic. I've been intrigued and entertained by the motley crew of criminals and gruesome murders in each of this author's books, and Dark Angel is no exception. As a bonus, there's a twist at the end that came as a total surprise.
I have nine Helen Durrant books on my Kindle. I've read and thoroughly enjoyed four of them and intend to work my way through the other five. The author is prolific, so it's comforting to know there are plenty more of her books to download when I've read all nine. I recall how sad I was as a teenager when I realised I'd read every Agatha Christie book and don't want to feel like that again. Whenever I find an author I enjoy, I try to read their entire catalogue. Helen Durrant will always be one of those talented crime mystery authors high on my TBR list.
My review of Keep You Near, by Robin Roughley
4-star.
Keep You Near is the first book I've read by Robin Roughley although I've been meaning to do so for some time. It's an intelligent, enthralling gore fest and maybe not for the squeamish or faint-hearted. I've read many thrillers of this type, so I could take the level of violence.
My enjoyment was slightly marred by the punctuation style throughout the book. The author's use of commas where I'd have used full stops was jarring, but I persevered because I wanted to discover who was killing so many children and why. I thoroughly enjoyed this dark thriller despite the punctuation and would happily have given the book 5-stars if the punctuation had been more to my taste. The characters, plot, and dramatic tension were all superb.
The author had me rooting for troubled teen Luke Croft, and eager for the capture of the brutal serial killer before the heartless fiend killed again. I was touched by the way DS Marnie Hammond took petty criminal Luke under her wing after he was beaten black and blue while in police custody. Kick-ass Marnie had a special interest in getting to the bottom of the spate of heart-breaking child murders on her patch because she was still suffering from witnessing the abduction of her sister years before. The tension in Keep You Near was almost unbearable at times, which is just what an engrossing thriller should deliver. I'll be adding more of Robin Roughley's books to my TBR list.
My review of An Odd Boy: Volume One, by Doc Togden
5-star.
I devoured this remarkable first volume of Doc Togden's, aka Victor Simmerson's autobiography, smiling right to the end. An Odd Boy is scintillating, informative, and magnificent. Doc Togden is a highly talented, remarkable Renaissance man who's turned his masterful hand to music, art, poetry, to name but a few, so it was no surprise to discover he writes books like an angel. It's one of those books I'd happily read again because it's packed with valuable, relatable, inspiring goodies.
The author is roughly my age, so I loved discovering how much we had in common during the first sixteen years of our lives. We both had extremely difficult fathers, a love for music, books, writing, and art, and no time for mathematics. I didn't have his passion for Blues and playing guitars, but I respect him for his life-long dedication. Blues got into his blood at an unusually early age. His bond with Mr. Love, a neighbour who introduced the precocious, stammering child to Blues music, was heart-warming. I relished the author's constant references to musicians, writers, and artists who've also added flavour to my life as well as his. I applauded each time he linked an event in his early life story to a perfectly apt music lyric.
To my shame, I don't usually read a book's footnotes, but Doc Todgen's footnotes are packed with worthwhile information, often humour, and I read each one as eagerly as the well-crafted main text. This Odd Girl can't wait to read the next books in An Odd Boy series to find out, among other things, what happened to the author and the other teenage Savage Cabbage group members. I wholeheartedly recommend An Odd Boy: Volume One, Doc Togden's tour de force.
My review of The Unravelling by Sarah Northwood
4-star.
I've not read any of Sarah Northwood's books before. I was certainly intrigued by this dark psychological thriller because I enjoy books written in this genre. I was keen to discover what was behind Ryan's strange, shocking behaviour, and what was compelling him to kill so unfeelingly. I deducted a star because I felt the book ended unexpectedly, leaving some of my questions unanswered, but I suspect the full truth might be revealed in the next book of the series. Overall, I enjoyed Sarah Northwood's atmospheric writing and her credible, well-developed characters, especially that of teacher Jennifer Ranger. Well worth reading.
My review of Brick by Conrad Jones
5-star.
Not having read any books by Conrad Jones before, I was blown away by how enjoyable Brick is. It's a breathtakingly action-packed crime thriller where the fast-paced, often shockingly violent action never lets up from beginning to end. I've read many books in this genre and Brick is definitely one of my favourites. I can see why it's the number one thriller on Amazon today. Like anyone else reading Brick, I was rooting for teenager Bryn Evans and his family, fearing for their lives throughout, especially with three powerful, brutal, heartless crime gangs in the mix. The author certainly knows how to bring characters to life and set the scene. He also knows how to kill off many of his characters in gut-wrenching ways. Brick kept me glued to each skilfully written page as my heart raced like the clappers. DI Braddick is a credible, multi-faceted law enforcer, and I'm delighted there are more books in the DI Marcus Braddick series, so I can cheer him on as he battles against the baddies. I suspect I'll be working my way through all the other books by Conrad Jones.
My review of Blackwater Lake by Maggie James
5-star.
I've been intending to read a Maggie James book for a couple of years. Blackwater Lake was a fine introduction to her work. As it is a novella, it was a quick and enjoyable read. From the first page, I wanted to get to the truth behind the mysterious happenings at Blackwater Lake almost as much as Matthew Stanyer did. The book begins with the disappearance of his father, a groundsman, and Matthew's mother, who suffered from dementia and the compulsion to hoard. I needed to discover whether Matthew's parents had committed the awful crime he feared they might have. I'm reluctant to give away more of the storyline for fear of spoiling it for future readers. The plot satisfyingly thickened, and before I knew it, I'd reached the end, helped along by the interesting, dark story and the author's easily digested, flawless style. I asked myself whether Blackwater Lake could have been written as a full-length book, but it worked perfectly as an atmospheric novella and I never once felt short-changed. I have no complaints, so I'll gladly be adding more of this author's books to my TBR List.
My review of The Healer's Secret by Helen Pryke
5-star.
I read and enjoyed Walls of Silence by Helen Pryke a few months ago. I was so impressed by the quality of her writing that I vowed to read her next book. I found The Healer's Secret even more enjoyable. The author has beautifully encapsulated the essence of the Italian countryside and tells a compelling, magical, easily understood story. She's built credible multi-layered characters and has set them in an easily visualised setting, enchanting me from beginning to end. The main character, Jennifer, moves her life to her Italian ancestors' home in Tuscany to help combat her alcoholism, brought about by her miscarriages and marriage breakdown. She seems a hopeless case until her life is changed forever when she begins to unearth her Italian ancestors' secrets. It's rare for a book to uplift me, especially when some of the subject matter is occasionally distressing, but Helen Pryke has the skill to inspire optimism, without being mawkish. I was delighted to read at the back of The Healer's Secret that she's writing another book about the Innocenti family. I'll certainly be reading it.
My review of The Liar's Promise by Mark Tilbury
5-star.
I was longing to read Mark Tilbury's next book, as he is my favourite author. I've read, relished, and five-star rated every book he's written, so it's easy to understand why I couldn't wait to devour his latest offering. I bet you're all waiting for me to say I was disappointed by The Liar's Promise. Sorry to be a spoilsport, but I loved it. I'd rate it marginally below the author's The Abattoir of Dreams, but that was the only book to ever make me cry, so The Abattoir of Dreams is still my all-time favourite book. However, The Liar's Promise still receives a huge five-star rating from me. I had a mild wobble at the beginning of the book when I wondered if I could stomach the extreme violence against young women by the psychopathic Shakespeare-loving Peter King and his amoral lover, Charles Honeywell, but I persevered. I was rewarded with a thrilling, engrossing, unique reading experience, a rollercoaster ride that kept my heart racing. I was compelled to discover if despicable King would get away with his abominable, heartless crimes, so I was compelled to overcome my fears of being too shocked and read on. I particularly enjoyed the skilfully handled eerie, otherworldly possession of four-year-old Chloe. My heart went out to Mel, Chloe's embattled mother, as she fought to restore her daughter to the innocent child she once was while struggling to hold her marriage together. I'm now hungry to read Mark Tilbury's next book.
My review of Dead Jealous by Helen Durrant
5-star.
Dead Jealous is the third book I've read by Helen Durrant, so you can tell I enjoy her work. Even though it's number seven in the Calladine and Bayliss series, this fact didn't spoil my enjoyment. Her books are becoming more satisfying with each one I read in the series, as the main characters are now more familiar to me. Dead Jealous is an engaging British police procedural, with three interwoven serious crime cases under investigation. Yet again, the author shows she is a safe pair of hands, and the reader is kept guessing who the criminals are from beginning to end. There are many suspects, all living on the rundown Hobfield housing estate in a fictitious town, Leesdon, in the north of England. Helen Durrant's writing style flows as smoothly as ever, and her words are easily digested. I'm certain I'll be reading more of this author's praiseworthy work. If you enjoy reading interesting, skilfully written British police procedurals that keep you guessing, then you should read this book.
My review of Only The Dead by Malcolm Hollingdrake
5-star
I'd stupidly read book 3 in this DCI Bennett series first, but have rectified my error and have now finished reading book 1, Only The Dead, which is set in Yorkshire. Its striking cover had been nagging me to read this book since the first time I saw it advertised. DCI Cyril Bennett, who is suffering from a spell of Bell's Palsy, and his sidekick DS Owen, work on two cases in this book, so the reader must have their wits about them as the story swings from one case to the other. As a woman, I can multitask, so I could just about keep track of events in each case.
One case begins with a breakout of attacks on care home workers and deals with the emotive subject of abuse and neglect of vulnerable inmates in care homes. Literal whistle-blower Lawrence Young's is busy seeking revenge for his mother's death. The reader soon knows who the perpetrator of the attacks is, and how and why he's committing these crimes. Lawrence's modus operandi was particularly intriguing and unusual.
The second case for Bennett and Owen to solve kicks off when the skeletons of two infants, buried decades earlier, are unearthed at a teacher training college. Only The Dead wasn't as gory or shocking as book three, but it was still disturbing and powerful enough to hold my attention. I slightly preferred book 3. At some point, I'll hopefully get around to reading books 2, 4, and 5 in this worthwhile series. As the author seems to be prolific, by the time I've finished book 5, there'll hopefully be books 6,7, 8, 9, and 10 waiting for me.
My review of Flesh Evidence by Malcolm Hollingdrake
5-star
Like an idiot, the first book I read by Malcolm Hollingdrake was book three in the series, not book one, but it didn't spoil my enjoyment. At some point, I must read the first two books, as I've now found someone else to add to my list of favourite authors. Flesh Evidence isn't always a comfortable read as it's not for the squeamish. The idea behind the book is original and disturbing, which always makes for a gripping book. The unusual cover first attracted my attention, and that's true of all the author's books. My interest was held throughout because I needed to know who was behind the disappearance of teenage boys and how DCI Cyril Bennett and his team would solve the mystery. I don't want to give the game away, so I'll say no more about Flesh Evidence, except that it's well worth reading.
My review of Death Wish by Linda Huber
5-star.
Death Wish is the third book by Linda Huber that I've read and enjoyed. It's my favourite of hers so far. I'm relieved there are still more books written by her for me to lose myself in. Death Wish is an interesting mix of fraught family relationships. There's Martine, who's struggling to come to terms with her mother's terminal illness. Joya is Martine's only child, and plays an important role in the story as she flits between her parents' house and the new neighbours, Ashley and Leo's house, trying to make sense of disturbing events that baffle her innocent brain. The author handles the 'voice' of this sweet eight-year-old girl particularly well. The two neighbouring households each consist of a married couple, plus the wives' mothers; one mother is terminally ill, and the other mother is plain nasty. Next door to Joya's family, Leo is eager to keep his wife, Ashley, but is so spectacularly useless in his attempts to prevent her from leaving that he is almost comical. I could go on and on, but if I say much more, I'd be telling the entire packed story. I don't want to spoil potential readers' enjoyment, so I'll merely say, read Death Wish. You can thank me later.
My review of No Bodies by Robert Crouch
5-star.
I had already enjoyed reading Fisher's Fables by Robert Crouch, so I was confident I'd also like No Bodies, and I was right. I probably should have read the second book in the series, No Accident, but it didn't spoil my enjoyment of reading No Bodies. There was the same masterful writing style, interesting characters, and the wit of the author continued to shine through. Kent Fisher is an amateur detective while somehow just about managing to hold down a job as an environmental health officer, plus running an animal sanctuary. I found the side stories, the undercurrent of love interest with Gemma, the trials and tribulations of his job challenges, as interesting as the more traditional crime thriller elements. Fisher struggles to find out who is behind the disappearance of several local wives, and the book builds to a gripping climax that it would be rude of me to divulge in this review. No Bodies is well worth a read.
My review of Walls of Silence by Helen Pryke
5-star.
Walls of Silence is one of those books that I will remember. I had no idea what to expect as knew nothing about the author or the subject matter beforehand. I felt emotionally drained by the end of it, as it's a tale of a woman who is sexually and emotionally abused and disbelieved from childhood. I was livid with so many characters in the book, both the vile perpetrators and those who turned a blind eye to the torrent of endless abuse that came Sicilian Maria's way. Her father was such a spineless creature, I still feel angry when I think of him. My hackles rose so often during reading this powerful book because the author breathed life into the characters so well. If the reader has been abused and disbelieved in any way, this book will reignite those feelings. It was hard to credit that so much relentless abuse and injustice could fall on one poor woman's head, but it can happen and does. Although there was much sexual abuse in the book, it was not gratuitously sexual, because this difficult subject was handled with great sensitivity. Maria is not the only woman to come to harm in the book, but it is mostly her hard-hitting story. The author painted such a vivid picture of life in Sicily and Milan, places I've never visited, she gave me a strong sense of the place, time, and people due to her beautifully crafted, well-edited text. I look forward to reading more of Helen Pryke's books and thoroughly recommend Walls of Silence.
My review of Everything to Lose by Gordon Bickerstaff
5-star.
Everything to Lose: the chase is on, is the second book I've read by Gordon Bickerstaff. I'm pleased to report it was just as gripping as the first, Deadly Secrets. I appreciated the way the story carries on smoothly from book 1. The hero, biochemist Gavin Shawlens, was suffering from the terrible aftermath of what happened in the previous book while getting to the bottom of performance-enhancing drugs, and the mysterious disappearance of some athletes. Gavin also had to struggle to avoid falling foul of several unpleasant, dangerous characters. This Lambeth Group series benefitted from the introduction of Zoe, a no-nonsense, feisty ex-SAS operative who was tasked with working undercover with Gavin for the Lambeth Group. The author managed to skillfully weave the plot and sub-plots together, along with all the many characters involved, so the book kept me gripped throughout, and beyond. The ending makes me want to read book three, as it cunningly set the scene for future exciting problems for Gavin and Zoe to resolve for the Lambeth Group.
My review of Deadly Secrets by Gordon Bickerstaff
5-star.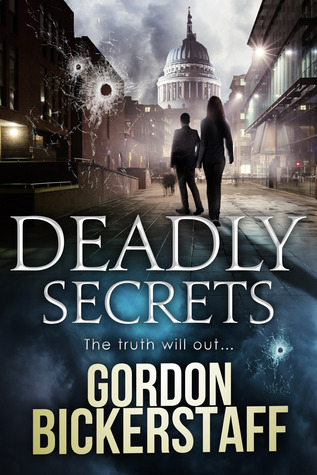 Deadly Secrets: the truth will out, is the first book I've read by Gordon Bickerstaff, although I've been meaning to do so for a while. I have no scientific background, but I could tell the author knew his onions when it came to biochemistry. I learned some interesting scientific facts, especially about pineapples and enzymes. I feared the book might be a dry read because of the scientific element, but the author didn't ram the science down my throat; it was an interesting, vital part of the story and blended beautifully into the action. The book brimmed over with satisfying suspense, emotional depth, espionage, murders, nail-biting moments, and intrigue. There was even some love interest thrown in for good measure with the appearance of Emma, the former love of biochemist Gavin Shawlens, the hero of the piece. The author didn't hold back when describing the nightmarish harvesting of valuable products from living people, or the grizzly deaths by enzyme, so it's not for the ultra-squeamish. I'm squeamish, but I handled these descriptions well, because this intelligent, skillfully written thriller kept me involved throughout. Each element of this fast-action book worked well for me. I have nothing negative to say about it and look forward to reading more of Gordon Bickerstaff's Lambeth Group series.
My review of The Good Widow by Lisa Steinke and Liz Fenton
5-star.
I've never read a book written by two people before, so I was intrigued to see if this method worked. As an author myself, I doubt I'd enjoy collaborating on writing a book with a friend, but will probably never be put to the test as I have no friends, ha! Full of preconceptions, I almost didn't continue to read this book, because I feared it might be a dull romance. I'm not keen on those. I prefer thrillers, but I'd been thrilled aplenty by the time I reached the climactic end of the book. I'm glad I persevered past the first few pages because The Good Widow quickly drew me in as the plot increasingly thickened after the death in Hawaii of the husband of the heroine, "Jacks" Morales. I don't want to spoil the book for anyone by revealing any more details about the plot. It's not an overly complex book, and the easily digestible style of writing whipped me through the pages without me having to scratch my head. I could see each of the characters clearly, so it mattered to me what happened to each of them, particularly Dylan, and why it had happened. Always the sign of a satisfying, worthwhile read. Thoroughly recommended.
My review of Postcards from London by Tim Walker
5-star.
What initially drew me to this book was the word 'Postcards' in the title, which is only natural as I've collected postcards since the 1970s and have written a non-fiction book about them. I've also written a collection of short stories, so I was intrigued to read some by Tim Walker, an author whose work I've been meaning to read for a while. I found his writing style easy to digest, therefore it didn't take me long to read this eclectic and sparkling collection of tales in various genres, all with a connection to London. Each story had its own merits and charm. None of the stories were a disappointment, whether set in the past, present, or future. It's the sort of book I might read again in the future. There was so much to enjoy in Postcards from London that I'd happily recommend this treasure trove of short stories to anyone.
My review of Curse of the Baskervilles by Colin Garrow
5-star
I've lost count of how many Colin Garrow books I've read, but know each one has pleased me, mainly for their infectious humour, of too many types to mention. I must be on the same wavelength. I prefer to read books by authors who've obviously enjoyed writing them, and it's easy to tell Colin Garrow has had a ball. I particularly enjoyed the final crazy story, Silence of the Lambtons. The Watson Letters books are good-natured spoofs of Arthur Conan Doyle's books, mostly seen through the eyes of Doctor Watson and his no-nonsense wife, Mary, with hilarious results. The anachronisms add to the fun. This third book in the Watson Letters, based on the author's blog of the same name, was my favourite of his stylish, well-written trilogy. I have several more of Colin Garrow's books lurking on my Kindle that I will read in time because he's a prodigious, intelligent, witty author whose absorbing books I'm excited to read and can easily relate to.
My review of Lost Connections by Jim Ody
Lost Connections
by
Jim Ody
(Goodreads Author)
This is the first book I've read by Jim Ody and I was pleasantly surprised. At first, I thought Lost Connections was going to be a straightforward, maybe heart-wrenching book about the kidnap of Daisy, the daughter of Eddie, the main character, but the book became more intriguing and multifaceted as I read on, with jewels of humour scattered about to win me over. There weren't too many characters to confuse me; they were all credible and I particularly enjoyed Jez and Miss Chambers. As a spunky, independent young girl, Daisy was a breath of fresh air. The writing style flowed smoothly and the author handled the plentiful dialogue well. The flashing back and forth between the past and present went without a hitch, which meant I never struggled to keep my grasp on the plot. I like reading unusual, nonformulaic stories; with the introduction of a time machine, invented by Eddie's missing father, Lost Connections turned out to be an unusual, well-written, entertaining story with a satisfying twist at the end I appreciated.
My review of One Punch by Keith Dixon
5-star.
One Punch is the third book I've read by Keith Dixon. I regard him as a safe pair of hands who won't disappoint. He has an elegant, pleasing style and his books are thankfully free of typos. I preferred One Punch to the first book, Storey, which I also enjoyed. It's set in Coventry, where I lived for five years, so I could picture the places mentioned, which helped. Having read Storey, it was satisfying to witness ex-policeman Paul Storey's character develop after he's employed as a driver and aide by ex-boxer turned property developer, Bran Doyle. Storey goes beyond the call of duty to help his financially challenged, embattled boss, who's involved in a grudge match with a nasty bunch of characters over who can develop their gym first, although there's more to the story than that. There's plenty of gritty action, twists and turns, and credible, complex characters along the way to maintain the suspense and the reader's interest.
My review of The Eyes of the Accused by Mark Tilbury
5-star.
As Mark Tilbury became my favourite author after I read The Abattoir of Dreams, I was destined to read The Eyes of The Accused. I'd already read and enjoyed The Revelation Room, book 1 of the Ben Whittle Investigations series a few months ago. Although it's not vital to read book 1 first, I think it helped my enjoyment of book 2, as there are references to horrific goings on at a farm which might perplex readers who've not read book 1, but I had no such problem. Although the Ben Whittle series didn't make me cry like The Abattoir of Dreams did, they are still 5-star books. The author's exceptional talents cannot be denied. He has an imagination I admire and can relate to.
The main female characters in The Eyes of the Accused are stronger, more complex, satisfying characters than the males, and figure more than in book 1. Private investigator, Ben, takes more of a backseat in book 2, with his side-kick, Maddie, taking a more prominent role once she'd rather foolishly volunteered to be put in a dangerous situation. There's an undercurrent of blossoming romance between Ben and Maddie, but I was more interested in what made Connie tick. Luckily for me, the romance is less evident than the tense, climactic, pleasingly shocking action in the book. The skilfully written story centres around the disappearance of pregnant Hannah Heath, who's in danger of being destroyed by a crazy, intriguing killer. I particularly enjoyed the author's deft, sensitive touch when we enter the vivid, nightmarish world, complete with talking Wolf, inside Connie's head. This book is essential reading for anyone who enjoys hard-hitting, imaginative, psychological thrillers by talented authors. To say I'm looking forward to reading Mark Tilbury's next book is an understatement. There's only one Mark Tilbury.
My review of No Safe Home by Tara Lyons
5-star.
No Safe Home is the first book I've read by Tara Lyons and I wasn't disappointed. I'd not read In the Shadows, the first book in the DI Hamilton series, but it didn't spoil my enjoyment because book two works well as a standalone. No Safe Home grabbed me by the scruff of the neck from the first page and rocketed me on a breathless journey through to a satisfying conclusion. As a woman who lives alone, it didn't make me feel comfortable or safe to read about the murder of women and their children by a mystery serial killer inside what should have been their sanctuary, their own homes, but I don't read crime thrillers to feel comfortable. I thought I'd guessed who the murderer was, but I was wrong, so that was a bonus. A reader will always feel cheated if they guess the murderer early on in a book. The author skilfully kept the tension high throughout the book, making me fearful for the lives of Kate and her son, Frankie. I'll certainly be reading more Tara Lyons books.
My review of Baby Dear by Linda Huber
5-star.
This is the second book I've read by Linda Huber and I'm looking forward to reading more of her work. Her sensitive style is easy to digest, which is half the battle and she cleverly entraps the reader from page one. The reader must discover what will happen to Caro and Jeff, the couple who want a baby but can't have one, and Sharon and Craig, who are expecting a child but don't want one. The author deftly shows how an infertile man can be driven to extremes to keep hold of his woman. His disintegrating grip on reality is beautifully portrayed. Julie, a single mother, becomes involved in the drama and becomes a main strand to the story. As with all good thrillers, the tension mounts and the unpredictable outcome keeps the reader gripped to the end. Baby Dear is well worth your time.
My review of Sleep Tight by Rachel Abbott
5-star.
This is the second book I've bought in as many months called Sleep Tight. The other is written by Caroline Mitchell. So far, I've only read Rachel Abbott's book, which I bought primarily because I was going to a meet-the-author event at Oldham Library, where she spoke engagingly alongside two other authors. I thoroughly enjoyed both the event and reading her involving psychological crime thriller, Sleep Tight. I was born in Jersey and lived there for eighteen years, so I particularly appreciated that another Channel Island, Alderney, was one of the settings for the story. I'd visited Alderney as a child and it's now one of the places where Rachel lives.
I found Rachel Abbott's style easy to digest, so I had no problem being immediately sucked into the story, which centred around Olivia's problems with her husband Robert's dangerous, creepy obsession with her. DCI Tom Douglas and his officers are set on protecting her and her children from deranged Robert, who is equally set on destroying everything to do with Olivia, including her children after she runs from him. The tension mounted satisfyingly and there are a few unexpected twists, but I'm not going to say more in case I spoil it for anyone. I'm looking forward to reading more thrillers by Rachel Abbott, especially as I have a signed copy of The Sixth Window on my bookshelves begging to be consumed.
My review of The Attic Room by Linda Huber
5-star.
I've been wanting to read one of Linda Huber's books for ages. I eventually chose The Attic Room. Its mysterious cover intrigued me as I knew something awful must have gone on behind that door. I wasn't disappointed, far from it. I haven't read any of the other reviews, and I daren't say too much to spoil anyone's reading experience. All you need to know is that the story and fluid style will draw you in. It touches on a subject not often discussed and the author has been brave enough to tackle it head-on. It all kicks off when the heroine, Nina, inherits a house and fortune from a man she hopes isn't her father, due to his revolting history. Her life becomes complicated when she decides to stay in his house while she sorts out the legalities following his death. There are flashbacks to Nina's mother's story, but it's easy to follow due to the author's uncomplicated, smooth style. As there aren't too many characters in the book, it's not hard to guess who the blackmailer is, but it didn't ruin the book for me because I needed to find out more about that character, which was all deftly revealed. The book builds to a tense climax, with a possible romance bubbling under the surface for Nina, subtle enough not to ruin the main story. The ending was unexpectedly poignant and I had a degree of sympathy for the 'baddie' despite his actions. There were no annoying loose ends in The Attic Room. It's well worth a read if, like me, you enjoy a good thriller.
My review of Something Wicker This Way Comes, written by Colin Garrow
5-star
I read Something Wicker This Way Comes straight after reading the author's Demon of Devilgate Drive, as I was in the mood for more of Colin Garrow's work. I'm glad I did, because his witty words in this madcap Sherlock Holmes spoof had me laughing like Muttley. I read it in a couple of nights as the style was easy to read, despite it being written in the language of the times, yet with incongruous, hilarious mentions throughout of modern references and people. I have always been a fan of this author's irreverent, clever humour and, at times, his pure silliness. He has a satisfying way with the names of people and places. I particularly like the nod to one of my favourite Ray Bradbury books, Something Wicked This Way Comes. Colin Garrow can certainly tell an imaginative, cracking good yarn and I will no doubt be reading more of his books. I always enjoy reading a book where the author has obviously had fun writing it, and I'd bet good money that he has had a ball writing Something Wicker This Way Comes.
My review of Heads Will Roll by Joanie Chevalier
5-star
Heads Will Roll is the first book I've read by Joanie Chevalier, so I was unsure what to expect. I found her style easy to digest and the story grabbed me from the start. The unusual subject matter was intriguing and pleasingly dark. Head transplant surgery is an interesting, novel hypothesis. It could make some readers queasy to even consider, but mankind enjoys a challenge, so I wouldn't be surprised if a surgeon transplants a head onto a body one day as medicine advances. I enjoyed the stories of the diverse characters who wanted to have their heads transplanted onto superior bodies to their own for health or cosmetic reasons. I particularly enjoyed terminally ill Barry's story. The sinister aura of crazy Dr. Stefan Farkis permeated the book, making the hairs stick up on the back of the reader's neck at times. Heads Will Roll is well written and certainly worth reading. It's a book that entertains while making the reader think.
My review of Dead List by Helen Durrant
5-star
Dead List is the second book I've read by Helen Durrant. I'm happy to report that I enjoyed it as much as Dark Houses. I was sure I wouldn't be disappointed, as the author has a confident style I enjoy. The author's characters are credible. I could picture them and their surroundings as I read, making the storyline easy to follow. I had a certain degree of sympathy for the killer, but if I say why, it would give too much of the plot away; I dislike spoilers. The interesting subplots have been skilfully woven into the main story, giving it depth. I enjoyed the petulant squabbling between Calladine and Greco. Dead List is more of a whydunnit rather than a whodunnit, which is no bad thing. I have several more of Helen Durrant's books lurking on my Kindle and look forward to reading them all in due course.
My review of Actress by Keith Dixon
5-star
Actress is the second book I've read by Keith Dixon. Its content is entirely different from the first book I read of his, a thriller called Storey, but Actress was equally enjoyable. It's been intelligently and sensitively written, well edited and bowls along smoothly. It's a rare pleasure and relief to find no typos in a book. The plotlines have been skilfully woven, with surprises along the way, especially the ending.
I mostly read crime thrillers these days, so it was refreshing to read about the intricacies of the life of a rising young actress, Mai Rose, who seems to be a magnet for bad publicity. I was gripped by Mai's challenging attempts to beat her rivals to win a prized film role while rehearsing for a stage play, and her growing ambition to produce a worthier project. The book has many interesting, well-drawn characters, particularly Jake, Mai's self-destructive soldier brother, Helena, who is Mai's main rival, and Mai's friend, Billie. I look forward to reading more books by Keith Dixon.
My review of The Abattoir of Dreams by Mark Tilbury
5-star
Few books have left me feeling so moved. My tears welled up at certain points in The Abattoir of Dreams, especially over Liam, Mikey's friend at the shameful, hellhole of a children's home. Never have I hated a character as much as I hated vile Detective Inspector Carver; a sadistic, devious man, to put it mildly. He is not the only corrupt, murdering, controlling deviant in the book, but he's the worst. As usual, I'll attempt not to give too much away in this review, so as not to spoil the book for future readers.
I so admire this book and the author for writing it; not that it's an easy read, emotionally, as the author masterfully puts the reader through the mill, but it is justified. It's an exceptionally powerful, well-constructed book, with a story that needed to be told. It reeks of authenticity, more's the pity. The use of the afterlife in the plot is skillful, beautifully effective and credible. It's rare for my heart to pound with excitement or fear whilst reading a thriller, but this book made me sweat with concern over the fate of the hero, Mikey.
What a brilliantly moving, involving 5-star book, one that I urge everyone to read. Congratulations, Mark Tilbury. This was the first book of yours I've read, but it certainly won't be the last.
My review of The Revelation Room by Mark Tilbury
5-star
The first Mark Tilbury book I read was his latest book, The Abattoir of Dreams. I loved it and wondered if The Revelation Room, an earlier book, would live up to my high expectations. I'm glad to say it did and I thoroughly recommend it to all who enjoy losing themselves in an exciting, well-written book. It tells the story of diffident Ben Whittle's search for his missing private investigator father, who's disappeared while investigating the disappearance of a girl held captive by a religious cult ruled over by Ebb, an insane, sadistic religious fanatic with serious mummy issues. The revelation room itself is a place of nightmares, so it's not a book for the faint-hearted, but it gripped me from start to satisfying finish. Mark Tilbury is now one of my favourite authors, and I look forward to reading every book he writes or has written. I've just added The Eyes of the Accused, which leads on from The Revelation Room to my list of books to read.
My review of A Long Time Dead, by Andrew Barrett
5-star
This is the first book I've read by Andrew Barrett, and I'm kicking myself for waiting so long. I thoroughly enjoyed reading about how our hero, Roger Conniston, is arrested for the brutal murder of a girl. I've never read a more authentic and detailed crime thriller, which is not surprising, as the author was a senior crime scene investigator like Roger Conniston, his friend and promotion rival, Chris, and his other colleagues. As well as an exciting thriller, complete with a vile bent cop, called Weston, who enjoys making Roger's life a misery, I also appreciated the author's many fascinating explanations of the forensic procedures. Without hopefully giving anything away, I didn't expect the ending to turn out as it did. Although the main story was wrapped up satisfyingly in this first book, it ended on a cliff hanger that'll no doubt lead into book two, so it looks like I'll be reading all the other books in the series. As I enjoy Andrew Barrett's writing style, touches of humour, meticulous attention to detail, and well-drawn characters, I'm looking forward to reading them.
My review of The Du Lac Chronicles by Mary Anne Yardey
5-star
It was a refreshing change for me to read a historical romantic fiction book after reading back to back gritty crime thrillers over the past few months, especially a book so well written and involving. Set in the Dark Ages, it follows the threatened, challenging lives of lovers Annis of Wessex, estranged daughter of the brutal King of Wessex and Alden du Lac, son of Launcelot. Their love story is enchanting and by no means straightforward. There's a whiff of Arthurian legend throughout, and the couple's story is both romantic, without being mawkish, and exciting; their lives are often in peril. The author has a pleasingly controlled style of writing and the text is easy to read, despite the story being set so long ago. I will read the other books in this historical romance series, as I need to discover what happens next to young Annis and Alden.
My review of The Quiet Ones by Betsy Reavley
5-star.
Yet another winner from Betsy Reavley, with unexpected twists, turns, and gut-wrenching surprises. It's hard for me to write an in-depth review of The Quiet Ones because I might give the game away. The use of first person narrative has been used to great effect and the story flows smoothly. Josie, the main character in the book, is a satisfyingly complex character, beset by gargantuan, disturbing problems, so naturally my interest was held throughout the book. This author has wonderfully unusual stories to tell and I'm a huge fan of her work. I will soon have read all Betsy Reavley's books, so hopefully she's busy writing a new one.
My review of Graveyard Rose by Ginny Clyde
5-star.
I finished reading Graveyard Rose last night and thoroughly enjoyed the experience. It tells the story of Lenara, or Lena, Gerrickson, a feisty, independent and courageous girl who has been made a Guardian within a strange world threatened by werewolves, vampires and even unpleasant human beings, like her ex-fiancé Stephan. He made my hackles rise more than the monsters. I could perfectly visualise the dangerous fantasy world the author skillfully described. She made me care enough about the heroine, Lena, to want to find out about what will happen between her and mysterious, masked Christopher in the next book.
My review of Blood Red Rose by Ginny Clyde
5-star
I enjoyed this second book of this gothic paranormal romance series even more than the first book, Graveyard Rose. It continues the story of feisty Lenara and her involvement with the mysterious, masked Christopher. Many of the questions I had about Christopher were answered, but I will need to read book three to get to the bottom of it all. The series makes a refreshing change from the usual crime thrillers I read. The author is skilled enough to have created a credible fantasy world of werewolves, vampires, and humans. I must read the third book, Immortal Rose, to see how the intriguing story resolves itself, as the reader is left dramatically hanging at the end of Blood Red Rose, wondering what'll happen next to Lenara and Christopher.
My review of Frailty by Betsy Reavley
5-star.
Frailty is the third Betsy Reavley book I've read in the past couple of months, so you can tell I am a fan of her work. Yet again, she didn't disappoint and I couldn't read it fast enough. It is another gripping, disturbing, unusual, hard-hitting psychological thriller full of surprises and gruesome happenings. Libby, Danny and their daughter, Hope, each narrate their own chapters which is an effective way to involve the reader and make them care what happens to each of them, especially when it's young, kidnapped Hope speaking; those chapters were particularly gut-wrenching and I could scarcely bring myself to read them. Frailty contains the usual Reavley twists, turns and unexpected endings. I'm looking forward to reading another of the author's books as soon as possible. I've just downloaded The Quiet Ones as a Christmas treat to myself.
My review of The Carrigan Painting by BJ Richards
5-star.
The Carrigan Painting is a mixture of mystery, ghost story, and crime thriller. I read it in a few hours but it charmed me enough to make me want to read other books in the Billamore Hall Mystery Series. The author has revealed part of the mystery in this book but there's evidently more to tell in the following books. BJ Richards succeeded in painting an uncomplicated, vivid picture of the characters, setting, and crimes. Book one whetted my interest. I now need to know more about the murders of the previous curators and what dangers Sandra Peterson, the new curator and heroine of the book, will face.
My review of The Optician's Wife by Betsy Reavley
5-star.
Betsy Reavley has recently found her way up there on the list of my favourite authors. I finished reading The Optician's Wife last night in bed, and what an ending it was! Let's just say I didn't get to sleep for a while afterward as it built to an unexpected climax that made me keep the bedside light on. As I dislike reviews that give away the endings of books I'll say no more, save to say the author pulls no punches and succeeded in shocking this reader, in a good way. I want to say far more about the characters and story, but if I did so, I'd have to give away too much and spoil it for future readers.
I enjoyed the switching back and forth between different times in Dee's troubled past, told in Dee's own words, as it worked well and didn't confuse me, as can happen in some books. I can thoroughly recommend The Optician's Wife if you enjoy honest, well-constructed writing, an easily digested style that bowls along, and well-drawn, credible characters. The Optician's Wife is an involving book, full of surprises and breathtaking, chilling moments and one I'm sure that'll stay with me longer than most.
My review of Death on a Dirty Afternoon by Colin Garrow
5-star.
I read Death on a Dirty Afternoon in a day, not because it's a short read, but because I wanted to find out who killed Big Ronnie, boss of a taxi firm. This was the first book I've read by this author and I'd cheerfully read another. I'll try not to reveal the plot in this review as that spoils everyone's fun. I didn't work out whodunit, as the author did a sterling job keeping up the suspense. I was particularly charmed by the main character, taxi driver Terry Bell, who acted as amateur sleuth on a mission. The detectives in several books I've read have often left me feeling cold and disengaged, but Terry was an endearing, humorous, normal man muddling through heroically. The book was not formulaic. Terry wasn't riddled with personal angst, which made a refreshing change. He's just an average Joe determined to find out the truth behind the murder of his boss. I was rooting for him all the way as he dashed headlong into difficult and dangerous situations.
The characters mostly talk to each other in broad Geordie, which I found surprisingly easy to follow, despite me being a southerner. There's oodles of gentle humour in the book and I laughed out loud many times; 'Step away from the curry,' tickled my funny bone. It was not a blood and guts, steamy sex book, which was fine by me as they are two a penny. Terry and his sidekick Carol's relationship was touching, often funny and there was an undercurrent of 'will they? won't they?' which added extra suspense. The minor characters were also beautifully drawn and I could visualise each one, plus their surroundings, which is a testament to the author's skill. I don't know if one is planned, but I sensed there could be a second book starring Terry and Carol at some point, but I must wait and see. I'd certainly be keen to read it.
My review of Fisher's Fables by Robert Crouch
5-star
I was surprised how much I enjoyed Fisher's Fables. I wrongly suspected that the subject matter might be dull as it's all about the machinations of a local Environmental Health department. It wasn't dull at all, thanks to the skilful writing, interesting characters and wit of the author. Ditzy Admin support officer, Kelly, was my favourite character, with her unintentionally amusing, off-the-cuff comments.
Having worked for five soul-destroying years in a similar environment, I could easily relate to Kent Fisher's frustrations and rebellious attitude. I chortled more often than I expected to whilst reading Fisher's Fables. It's always satisfying when pompous, plain silly bureaucrats or self-serving dignitaries of dubious character are intelligently ridiculed or have their plans scuppered. Kent Fisher often managed to do this, highlighting the lunacy of the endless acronyms, random changes for the sake of change and the inefficiencies of his department. His boss, Danni, was a nightmare yet a somewhat pathetic figure of fun. Without wishing to spoil the ending, I now need to read the sequel after a suspicious discovery was made at the end of Fisher's Fables. Nicely done, Robert Crouch. You hooked me in.
My review of Living like a Vampire by Jacky Dahlhaus
5-star.
Living like a Vampire is the first book I've read by this author and, although I suspected I might not like a book about vampires at my advanced age, I thoroughly enjoyed its fast pace, interesting, credible and exciting plot. Suckers sucked me in before I knew it and I'm glad I gave the book a chance. The relationship between Kate and Charlie was particularly delightful, especially when sexy vampire Caleb was thrown into the mix. The use of some science within the story was unusual and effective. Jacky Dahlhaus made something as fanciful as vampires with superhuman strength seem believable. I look forward to reading other books in the Suckers series. Well done for turning me on to vampires. 5 stars.
My review of Carrion by Betsy Reavley
A 5-stars read
It didn't take me long to read Carrion by Betsy Reavley because I found it engrossing, easily digestible and desperately wanted to find out how it would all turn out for Monica. The poor girl had not been having much luck, to put it mildly. I'm not a fan of people who give away spoilers of books when they review, so I will try not to say too much, save to mention that I regretted being alone in the house at night each time the menacing crow made its appearance in the book.
My daughter is about Monica's age, so I was rooting for the embattled heroine from page one as she went through the mill following a double tragedy. I also closely related to her mother, for obvious reasons. I was livid with all the men in the book. The author certainly managed to trigger emotional responses in me, from fear, pity, concern, loathing and then more fear. I enjoyed the clever use of having different characters narrate each chapter as it kept the book fresh throughout and was a clever way to hear each character's point of view. I loved the mingling of hard-hitting reality and equally hard-hitting fantasy. I look forward to reading more of Betsy Reavley's books as I appreciate her clarity, vivid imagination and no holds barred style … if the crow spares me.
My review of Storey by Keith Dixon
5-star.
Storey is the first book I've read by Keith Dixon but it won't be the last. I found the author's style easy to read as it flowed smoothly. The intelligent plot isn't over-complicated and the pages are packed with just the right amount of suspense, violence, dry humour and intrigue. The characters on both sides of the law are credible. I sometimes wanted to slap troubled ex-police marksman Storey for involving himself with a con-woman destined to lead him into danger, although if he hadn't, there'd have been no Storey. The book is a fast-paced crime thriller set in Coventry where I studied art for five years, so I appreciated my exciting trip down memory lane and look forward to the next in the series.
My review of The Watcher by Netta Newbound
5-star.
I've never read one of Netta Newbound's books before, but I'm glad I read this new release. The book bristles with menace from the off and doesn't let up, even at the end. I'll certainly be reading more of this author's work. One of the deaths surrounding the likable heroine, Hanna, was particularly shocking and quite upset me … but I got over it, ha! I never saw it coming, which is always the sign of a fine thriller. The Watcher in the title is a particularly nasty piece of work; one of the most credible, evil serial killers I've come across and I've read about a fair number. I sense there could feasibly be a follow-up to this book, but I could be wrong. I frequently am. If there is a sequel, I will certainly make it my business to read it.
My review of Dark Houses by Helen Durrant
5-star.
I'd been meaning to read one of Helen Durrant's book for some time and am kicking myself for not doing so earlier. I bought Dark Houses only a few days ago and was surprised how speedily I reached the end. From the start, it was easy to rattle through the chapters, due to the flowing, fast-paced action and the author's uncomplicated style of writing. This involving story takes place roughly where I live, making the book feel particularly relevant. I'm not a fan of reviews that disclose too many spoilers, so I won't lay out story details here. The murders are gruesome yet poignant, making me eager for the police to quickly catch and deal with the sadist who'd committed such toe-curling atrocities. I'm glad I failed to work out who was behind the grizzly crimes before the culprit was cleverly revealed. The book is an enjoyable ride that I recommend, with just the right amount of tension, character detail, police procedure and fresh ideas to keep the reader wriggling on the hook.
Dark Houses was my first experience of a Helen Durrant book. I sensed I was in a safe pair of knowledgeable hands throughout, so it won't be the last time I enjoy one of her books. I'm confident the author will not disappoint whichever book I next choose to read. There was no disadvantage in me not having read the first book in the series; it works perfectly as a stand-alone. I'm tempted to read book one to fill in any gaps before eventually reading the rest of the series. The characters are interesting enough for me to want to discover what'll happen to Greco and Grace throughout the series. Who is Grace? Read the book and find out. I'm particularly concerned over Stephen Greco difficult challenges. The author cleverly led me into wanting to read the next chapters in her main characters' lives, whilst still managing to expertly wrap up this particular story.
My review of A Barrow Boy's Cadenza by Pete Adams
5-star.
I finished reading Pete Adam's splendid rip-roaring tale last night and am now recovering as it was such an exciting, hilariously quirky ride. I've not read the previous books in the series but it didn't seem to matter too much. After the first chapter or so, I started to have the measure of Jack, aka Jane, Austin and his long-suffering yet adoring partner, Mandy. As I read, I often wondered how on earth Mandy finds the patience to tolerate Jack's accident-prone buffoonery, but their love is touchingly strong. The unlikely DCI turns out to be more complex than I'd initially thought. I often wondered how Jack manages to hold down such a demanding job with everything that's going against him, but his foibles and failings make for an amusingly irreverently entertaining story that also packs a powerful, deeper social message.
I appreciated Jack's relentless jokey references to characters, films and events of my distant youth. Readers, especially those who've not read the previous books, need their brains to be in gear to unravel who is who, because characters are always given silly names by Jack. This book makes a pleasant change from the doom and gloom often found in more formulaic detective thrillers. In A Barrow Boy's Cadenza, characters are killed off or injured with gay abandon. I could sense the author's thorough enjoyment whilst writing his book, which always makes for a great read. However, it's not all japes and giggles. There are also several poignant scenes when the mood switches but it's not long before the author sweeps us off again on another gripping roller coaster ride that comes to a satisfying conclusion. I'll definitely be reading other books in this delightfully charming, refreshingly unusual series.
Here is the link to A Barrow Boy's Cadenza http://amzn.to/2bHDEgu
My review of Old Friends and New Enemies, written by Owen Mullen
5-star.
I haven't yet read the first book featuring Charlie Cameron, but this didn't prevent me from thoroughly enjoying Owen Mullen's second book, Old Friends and New Enemies. I appreciated the clipped style of writing which helped the story move along. Having first watched the trailer for the book, which actually convinced me to buy it, I heard Owen Mullen's Scottish accent throughout my reading of the book which added to the atmosphere. I won't divulge any of the story here as I don't want to spoil it for future readers, save to say that not all is as it would appear. All of the characters were credible and well-rounded. The villains were particularly nasty pieces of work and certain scenes had me pulling faces as I can be a tad squeamish. I now have to read the first book, Games People Play, to find out more about Charlie Cameron. A classy piece of 5-star writing.
Here is the link to Old Friends and New Enemies http://amzn.to/2c00Jhk